Secure Your Legacy and Experience Peace of Mind with Our Comprehensive Living Trust Complete Package
Welcome to the future of estate planning! As you embark on the journey to protect your assets and ensure your loved ones are taken care of, it's essential to be aware of the various tools available to help you manage your estate. Healthy Money Happy Life is here to help. We've assisted over 6,000 families and business.

One such powerful instrument is a living trust. Our all-inclusive Living Trust Complete Package offers you the essential estate planning tools you need to safeguard your assets and secure your financial legacy.
Unleash the Power of a Living Trust for Unmatched Asset Protection
A living trust is a legal arrangement that allows you to transfer your assets into a trust, which is then managed by a trustee on behalf of your chosen beneficiaries. What sets a living trust apart from other estate planning tools is that it's created and can be managed while you're still alive, giving you greater control and flexibility over your assets.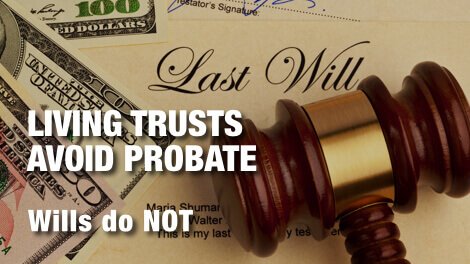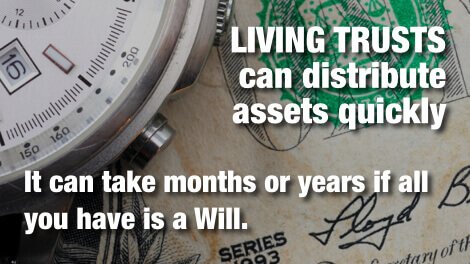 Our Comprehensive Living Trust Package: The Ultimate Solution for Your Estate Planning Needs
Experience the peace of mind that comes with a well-crafted living trust. Our Living Trust Complete Package includes:

A Revocable Living Trust – Gain flexibility and control over your assets while you're alive and ensure a smooth transition for your beneficiaries after your passing.
Durable Power of Attorney for Financial & Legal – Appoint a trusted individual to manage your finances and legal matters if you become incapacitated.
Durable Power of Attorney for Healthcare – Designate someone to make critical healthcare decisions on your behalf if you're unable to do so yourself.
Living Will (Advance Directive) – Specify your end-of-life care preferences and ensure your wishes are respected during emotional and difficult times.
Pour Over Will – Capture any assets not included in your living trust and seamlessly transfer them to your trust after your passing. This is very important to avoid unexpected taxes and fees.
Abstract of Trust – A convenient summary of your trust's key provisions, simplifying your estate management process.
One Deed – Transfer your real property into your living trust, protecting your most valuable asset.
Experience the Unmatched Benefits of a Living Trust, Today and Beyond
While a living trust's primary purpose is to secure your assets after your passing, it also offers significant advantages during your lifetime. Here's how our Living Trust Complete Package can benefit you today:
Avoid Probate – Bypass the time-consuming and costly probate process, ensuring a seamless and swift transfer of assets to your beneficiaries.
Maintain Privacy – Keep your estate matters confidential. Living trusts don't become public record like traditional wills.
Asset Management – Ensure your assets are managed according to your wishes, even if you become incapacitated.
Tax Benefits – Potentially reduce or eliminate estate taxes, maximizing the inheritance you leave behind for your loved ones.
Take Control of Your Financial Future with Our Expertly Crafted Living Trust Complete Package
Don't leave your financial future to chance. With our comprehensive Living Trust Complete Package, you'll have the expert guidance and tools you need to protect your assets and ensure your loved ones are taken care of.
Are you ready to experience the peace of mind that comes with a well-crafted living trust? Contact us now at Healthy Money Happy Life for more information and to get started on creating a personalized estate plan tailored to your unique needs. Your legacy deserves nothing less.
Healthy Money Happy Life
Kris Miller, LDA
+1 (951) 926-4158
support@healthymoneyhappylife.com